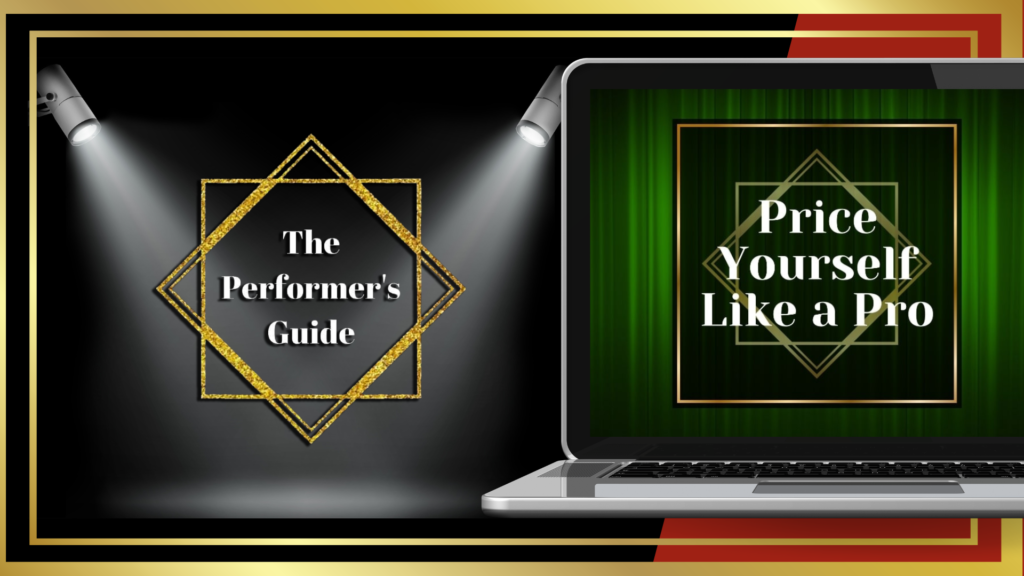 The Performer's Guide Price Yourself Like a Pro is now available as an online course!
This course is designed to change the way you price yourself as a professional performer. Includes 10 hours of pre recorded videos that will teach you how to get out of the starving artist mindset and into financial freedom.
Course Curriculum:
💸 Price Yourself Like a Pro
💸 Your Financial Blueprint
💸 Financial Freedom Number
💸 Pricing Yourself Like a Pro
💸 Travel, Perks, Exposure
💸 Perceived Value
💸 Justifying Your Rates
💸 Pricing Strategies That Sell
💸 Handling Charitable Donations
💸 Income Expense Reports
💸 Create a Financial Plan
💸 Price Yourself Like a Pro
This introductory video will break down the course ahead and help you prepare to price yourself like a pro!
💸 Financial Blueprint
Our belief system is formed when we are around eight years old. This means that much of what we believe about money stems from our childhood and what we've been taught by our parents. This module is designed to help you think about what you learned about money when growing up.
💸 Financial Freedom
Your Financial Freedom number is the amount of income needed in order to pay for your daily living expenses. It's the amount of income required from your savings and investments that would allow you to quit your job and no longer work. That doesn't mean you have to quit your job, but it gives you the freedom and control to do so if desired.
💸 Find Your Day Rate
Pricing can seem confusing when you are first starting to pitch yourself to clients. So let's break it down. In this module we will take our financial freedom numbers and use them to calculate our day rate.
💸 Travel, Perks, Exposure
Your performer rate does NOT include travel expenses, perks and exposure. These expenses should be added after your rate and should be paid for by the client. A Travel Expense is an expense incurred while traveling for business purposes or entertaining a business client.
💸 Perceived Value
Perceived Value is the customers' evaluation of the merits of your product or service, and its ability to meet their needs and expectations, especially in comparison with your competitors. Learn to base your prices on value, not time.
💸 Justifying Your Rates
Before you're tempted to cut costs so that you can lower the fees you charge, evaluate the services you offer and communicate the value you provide. In this module you will learn how to properly explain your rates to any client!
💸 Pricing Strategies
Let's talk about pricing strategies! These often get confused with undercutting in the entertainment industry. Performers talking about being undercut by a competitor and asking other performers within the field to stay within the industry standard. Learn shat the industry standard is and how you stay within it!
💸 Charitable Donations
As a performer, there comes a time when someone asks for a free performance for their non profit organization or fundraiser. So lets discuss what is considered a charitable organization, how much you can write off and how to properly record it for taxes at the end of the year.
💸 Income Expenses
Its shocking to me how many businesses are operating without an income/expense report! If you dont have one, you are likely making tax errors and los9ng money, or worse, could be audited. In this module learn how to do proper accounting for your business.
💸  Financial Planning
In this module we will predict future income, asset values and withdrawal plans. These will help us steer our business in the right direction and give your potential investors an idea of your financial vision.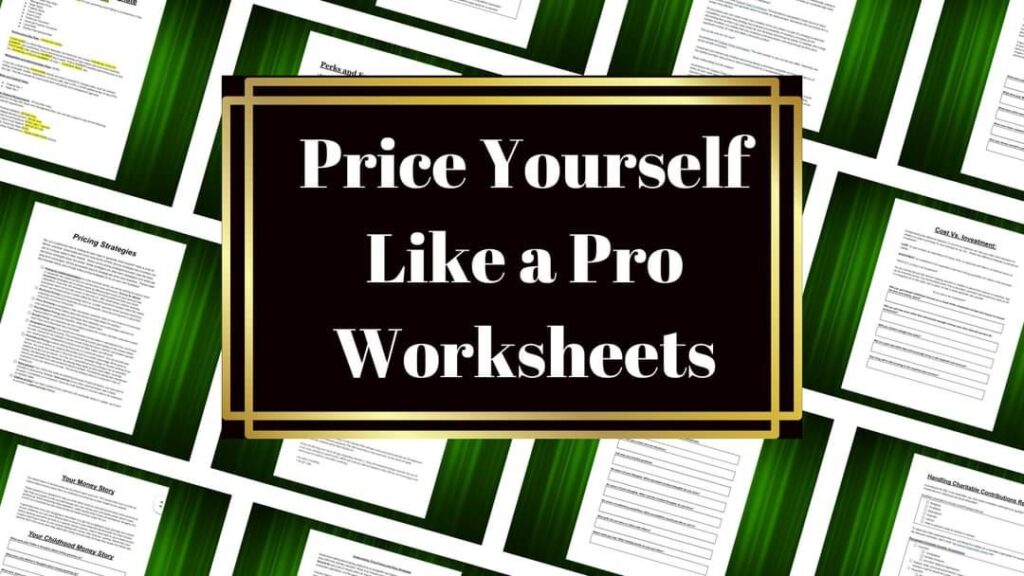 Plus get access to the Price Yourself Like a Pro printable Worksheet & Template Bundle
📝 Your Money Story
📝 Scarcity Vs. Abundance Mindset
📝 Cost Vs. Investment
📝 Financial Freedom Number
📝 Financial Analysis (Get R.E.A.L)
📝 Pricing Yourself by the Day
📝 Calculating Travel Expenses
📝 Price Sheet
📝 Event Budget Calculator
📝 Justifying Your Price Rates
📝 Pricing Strategies That Sell
📝 Undercutting Vs. Under Bidding
📝 Perks and Exposure
📝 Handling Donation Requests
📝 Income Expense Report
📝 Balance Sheet Template
📝 Tax Credits and Tax Deductions
📝 And more!